HIT Perspectives
Subscribe
HIT Perspectives – January 2022
EHR Extension Apps May Be One Key to Better Supporting the Treatment of Complex Conditions

By Brian Bamberger, Lead, Life Sciences
Quick Summary
EHR extension applications can improve the physician and patient experience
Supplementing existing EHR capabilities to assist providers in evaluating and monitoring patients with rare conditions is possible
APIs play a key role
There is an opportunity for pharmaceutical companies to get involved in developing applications
It is challenging for providers to diagnose, treat and manage patients with uncommon and complex conditions, such as fibromyalgia and other autoimmune disorders. Symptoms may not present in a straightforward way or evolve as the disease state progresses. For many complex conditions there are endless combinations of potential treatments and once an effective one has been identified for a patient, the effectiveness of some protocols may begin to wane over time. Side effects may also be an issue and require consistent testing and evaluations. These factors require providers to monitor and adjust treatments over time.
These electronic health record (EHR) extension apps are selected by practices to use in conjunction with their EHR. The apps use access to the EHR to collect data and can insert information into the EHR record like patient evaluation results, orders for tests, treatment plans and visit notes to document the patient encounter.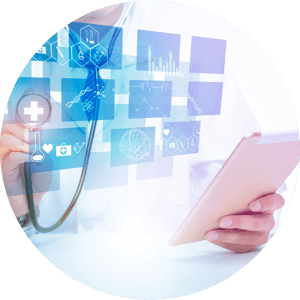 There are three main areas where EHR extension apps can improve the physician and patient experience. First is the ability for apps to access data from the patient record in the practice EHR to present an advanced analysis not available directly in the EHR. Second is during treatment to monitor patients and ensure adequate testing in line with guidelines. Last is assistance with onboarding patients by collecting information needed to submit for payer approvals and brand assistance programs. EHR functionality exists to evaluate patients for the most common conditions, but less frequent conditions may not have EHR capabilities to assist with evaluating and treating patients suffering from less common diseases. Supplementing existing EHR capabilities with specific functionality to assist providers in evaluating and monitoring patients with more rare conditions is now possible as data open up to third-party organizations.
Thankfully, widespread EHR vendor support of application programming interfaces (APIs) has created an opportunity for the development of EHR extension apps. Many vendors offer online app stores (such as Epic's App Orchard), where App developers offer vendor-certified EHR extensions. These Apps make credible information on diagnosis, treatment, management and education available in real time to the physician within the context of the EHR workflow – but without the need for extensive configuration in the EHR by the vendor or individual practices.
Can Pharmaceutical Companies Get Involved?
Pharmaceutical manufacturers can help further the development of these apps by creating (or sponsoring) digital tools to connect with physicians on the parameters of complex conditions, as well as help get patients the treatment they need. EHR extension apps help strengthen the relationship among manufacturer, provider and patient by enabling tools to engage the patient and their care team in informed decision making based on guidelines they actively review and accept.
There may be questions about pharmaceutical company involvement in EHR extension app development. We believe that legal risks can be mitigated by having the app put control in the hands of the providers treating patients. Apps that allow providers to select the guidelines, educational materials and corresponding orders will meet the tests of regulators.
If that's not enough, here are five more reasons why pharmaceutical manufacturers should consider the development of EHR extension apps for rare or uncommon diseases.
1. The technology is here
The technology exists to make needed clinical information available in an interoperable way. This can be done by certified app developers using APIs based on the HL7 FHIR (Fast Healthcare Interoperability Resources) standard. FHIR is a game changer for developers and users in health care. FHIR-based apps have the flexibility to be used across multiple EHRs, with little to no additional programming. FHIR has become the standard of choice for enabling access to EHRs for administrative and clinical information.
2. Apps are easy to implement and use
The existing FHIR infrastructure significantly reduces the level of effort needed to set up apps in various EHRs. This means that configuration only needs to be done once and can easily be replicated across multiple practices without the involvement of the EHR vendor. This expedites distribution and setup and can reduce the number of implementation sign-offs in the organizational structure. Physicians are increasingly using apps in their day-to-day life and practice as apps contain verified and expert content that can be easily updated as the science evolves. Both heighten the probability of adoption.
3. Not everyone is an expert
Apps can help physicians get up to speed on complex conditions that are infrequently seen. Diagnostics and treatments for these disease states are constantly evolving and clinicians aren't always aware of all new developments. EHR extension apps can be useful by providing the most up-to-date information with a targeted focus, within the context of the patient visit. This creates an opportunity to improve diagnosis, treatment and outcomes.
4. Improve adherence and equity
Apps can help with adherence by making it easier for physicians to consistently use guidelines they choose in their decision-making process —especially new guidelines that are appropriate as a patient's disease state progresses and alternative treatment regimens are necessary.
5. Enhance patient engagement
Apps can also be used to engage patients to comply with treatment regimens. App-based patient education information reviewed with the physician is more effective than printed material (which patients may not read) to visualize and explain the diagnosis and effects of treatments. Apps can help patients communicate symptoms and document their status, which in turn can improve outcomes and compliance.
Apps may also be important in improving health equity. Those in underserved, marginalized and impoverished groups often have smartphones, which can be used to exchange condition-specific information. Progress and compliance can be monitored via the app accessed on a smartphone, leading to improved access to care and outcomes.
Looking ahead. Point-of-Care Partners is a national expert in FHIR. We can leverage our expertise to help pharmaceutical companies understand FHIR and how it can be used in apps to improve diagnosis, treatment and compliance. We have also successfully launched EHR extension apps to evaluate patients with lupus and to assist staff with submission to a reimbursement hub. Want to know more? Reach out to me at brian.bamberger@pocp.com.