HIT Perspectives:
Pulling Back the Covers on Health Information Exchanges: Part 1
Subscribe
HIT Perspectives – September 2020
Pulling Back the Covers on Health Information Exchanges


Part

1: Understanding Where They've Been


By Michael Solomon, PhD, MBA, Practice Lead, eCare Management in EHRs
and Ken Kleinberg, Innovative Technologies Practice Lead
Quick Summary
HIEs are needed more than ever before to address immediate needs like public health data exchange and patient access.

Years of government drivers and financial infusions brought HIEs to where we are today

.

Business models, geographic and governance differences and varied technology platforms led to sustainability issues for some HIEs.
Recent seismic events in the health care system have put the spotlight once again on health information exchanges (HIEs). Now more than ever before, HIEs are needed to address such immediate needs as the exchange of public health data stemming from the coronavirus disease 2019 (COVID-19) pandemic and the shift to give patients wider access to their data and control over its use.
HIEs received considerable attention (and funding) during the major advancement of electronic health records (EHRs) through the federal Health Information Technology for Economic and Clinical Health (HITECH) Act more than a decade ago. Even back then, HIEs were viewed as a means to plug interoperability gaps and help enable the electronic exchange of health information primarily among providers (including hospitals and ambulatory practices, labs and other health care entities) within localities, states and geographic regions. Since then, HIEs have had a lot of ups and downs. Many were absorbed/merged by more successful HIEs, went out of business or faced an uncertain future.
Today, HIEs are definitely back on the radar after 20+ years of effort and investments. Let's take a brief look at where HIEs have been so we can better understand their current state and outlook for the future, which will be covered in the next issue of HIT Perspectives.
A long but bumpy ride. The first iteration of what we today call HIEs were developed in the 1990s as community health information networks (CHINs) or community health management information systems (CHMISs), two competing models that evolved as the Internet was emerging and constrained by lack of digitized data.
The first government-level push for HIEs occurred in a 2004 initiative to transform health through technology. At the time, they were called regional health information organizations (RHIOs). They gradually grew in number, but progress was uneven.
With the passage of HITECH in 2009, CHINs, CHMISs and RHIOs were rebranded as HIEs. HITECH gave HIEs a financial shot in the arm. Fifty-six grants totaling $564 million were awarded to states and localities to create RHIOs. HITECH also created meaningful use to incentivize EHR adoption and established the Office of the National Coordinator for Health Information Technology (ONC). The aforementioned grants were awarded by ONC, which followed up in 2011 with an additional $16 million to 10 state organizations through its Challenge Grants program for HIEs.
This financial infusion paid off. In 2012, the eHealth Initiative reported 222 HIEs across the United States (US), of which 88 were advanced initiatives, meaning they had reached operating, sustaining or innovating phases. These efforts ultimately brought us to where we are today – 81 HIEs serving more than 95% of the US population according to the Strategic Health Information Exchange Collaborative (SHIEC).
These early HIE efforts and recent drivers are shown below.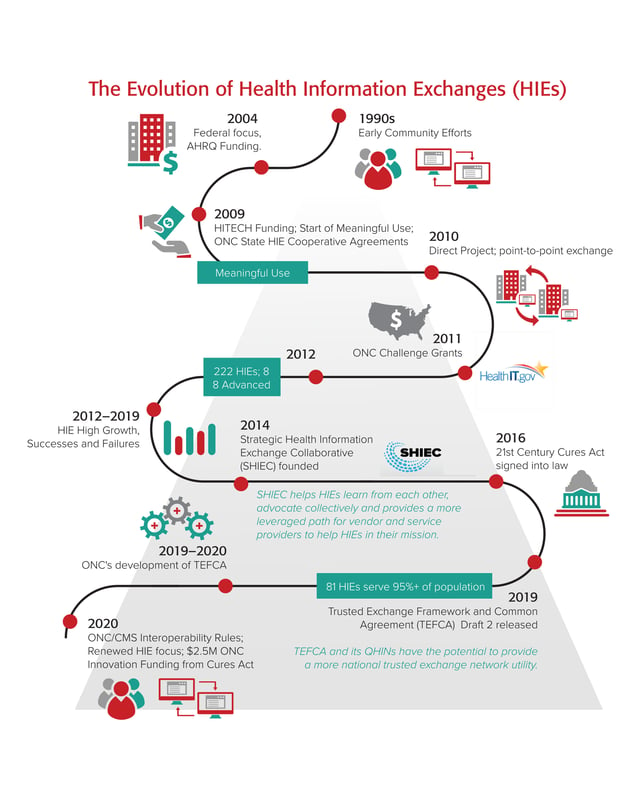 Unraveling sustainability issues. Seven years after the initial federal cash infusion, some of the original HIEs are still going strong. But why did others become unsustainable? The grants to some organizations were not enough to keep many HIEs afloat. Business models (who paid and how much) didn't always ensure sustainability, especially for HIEs that were privately funded. There were geographic and governance differences, with some states having multiple HIEs. Technology platforms and "standards" varied, as well as the ability to exchange specific types of data and data elements. Was it the HIEs' role to provide value-added services, such as data transformation and analytics, or was their primary role to just exchange information "as is"? Many were ahead of their time, but their service areas lacked interoperable technologies and connections to providers. Support by providers, payers and EHR vendors has been all over the map, from minimal to all in.
As a result of these and other issues, several HIEs merged, others went out of business and many struggled to survive. For example, Connecticut is on its fourth go-round to create a statewide HIE, following a decade-long implementation effort running up a tab of more than $20 million.
In addition, HIEs lost prominence in discussions about data exchange — being eclipsed by the focus on and importance of EHRs and their interoperability. Epic exemplifies this by providing its clients a widely used interoperability capability between its systems that can also be used to connect to other EHRs.
Despite their ups and downs and rumors of their overall demise, HIEs are still a key part of the health care landscape. There are many bright spots, including:
Delaware Health Information Network. DHIN went live in 2007 and rapidly became the

first

operational statewide HIE in the nation. Today, DHIN serves all acute care hospitals in Delaware, along with major laboratories and radiology facilities. Most medical providers in the state participate. Nearly 2.9 million patient records are stored in its community health record. DHIN also operates a statewide health care claims database that collects data from Medicare, Medicaid and several large commercial payers.
The Indiana HIE is one of the nation's oldest, with roots going back 30 years. Today, it exchanges data on 16 million patients with 117 hospitals, 18,486 practices and 51,688 providers. It is one of the HIEs maintaining a COVID-19 pandemic dashboard.
MiHIN

, Michigan's Health Information Network, has been serving the data exchange needs of providers statewide for the past decade. With the 2019 integration of the Great Lakes Health Connect HIE as a wholly owned subsidiary, MiHIN continues to expand its reach and portfolio of services. By the end of

that

year

, more than 150 organizations were exchanging data across the network, and 138K+ providers were represented in the statewide health directory. MiHIN has also rapidly responded to the pandemic, releasing a catalog of reports for providers and government organizations to aid in the tracking of admissions and discharges (COVID and non-COVID) in emergency departments and inpatient facilities.
Nebraska Health Information Initiative

(NEHII) is a statewide HIE connecting 3 hospitals, 186 ambulatory and 212 post-acute care facilities, and 4 million patients. NEHII, in cooperation with the state's Department of Health & Human Services, launched COVID-19 data monitoring services to help providers and government agencies track test results, inpatient bed availability and medical supply needs. It was the

first HIE to achieve National Committee for Quality Assurance (NCQA) accreditation.
Other successful HIEs with bright long-term prospects include the Chesapeake Regional Information System for our Patients (CRISP), the HIE for Maryland and the District of Columbia; San Diego Health Connect; the West Virginia Health Information Network; Health Current, the HIE for the state of Arizona; and the large number of HIEs in New York under the Statewide Health Information Network of New York (SHIN-NY).
With the wind behind their back, HIEs are picking up momentum once again. In the next issue of HIT Perspectives, we will look at where HIEs stand today and their challenges and opportunities for the future. In the meantime, reach out to us at michael.solomon@pocp.com and ken.kleinberg@pocp.com with questions.
---
In this issue: