How Pharma Can Help Providers Meet New Patient Experience Requirements
Subscribe
HIT Perspectives – July 2021
How Pharma Can Help Providers Meet New Patient Experience Requirements

By Brian Bamberger, Life Sciences Practice Lead
Quick Summary
New CMS Primary Care First Model puts more pressure to improve patient experience

Pharmaceutical field teams are well positioned to help providers improve patient experience

Education and other high-impact materials and configuring systems to best support provider/patient discussions are key
Patients have always been at the center of care, but their personal preferences and needs have not always been of primary consideration and measured. That has been changing recently with an emphasis on grading providers on quality-related metrics, including patient satisfaction. These directly influence reimbursement under rapidly growing value-based care arrangements.
That said, payers have come to realize that patient experience is not the same as satisfaction and may be more directly correlated with outcomes. Patient experience focuses on how patients experience or perceive key aspects and coordination of their care, as well as how satisfied they were with their care or nonmedical aspects of a visit with a health care provider.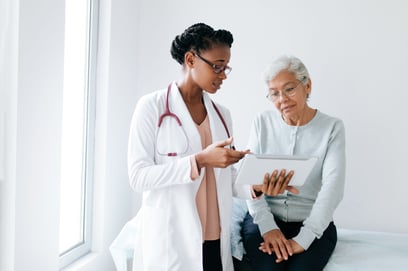 Now, measuring the patient experience is at the heart of new surveys being conducted as part of Medicare's new Primary Care First Model. This presents an opportunity for pharmaceutical field teams to help providers address the new metrics and succeed. Point-of-Care Partners (POCP) can ensure that all customer-facing teams have the education they need — and the tools and instructions leveraging advanced electronic health record (EHR) features — to implement and meet Medicare requirements.
Understanding the Primary Care First Model (PCFM). Primary Care First is a set of voluntary alternative five-year payment options that reward value and quality by offering an innovative payment structure to support the delivery of advanced primary care. It is being offered in 26 states and regions, and 827 practices are participating this year, the inaugural year of the program.
New patient experience surveys are being utilized to assess the program's effectiveness. Questions in the eight-page survey focus around several areas:
Timely appointments and response to questions

Helpfulness of staff

Provider communication with patients

Medications

Behavioral health

Hospital utilization

Patient information
How field teams can help. Pharmaceutical field teams are well positioned to help providers address key areas of the survey and improve the patient experience overall. This will benefit participating PCFM providers in general, as well as impact their reimbursements when answers to the survey highlight certain benchmarks.
Opportunities include:
Provider communication

.

Pharmaceutical companies spend a lot of time and effort producing educational materials. These tools can help providers start — and continue — a conversation with patients about their care that results in shared decision making. Field teams can help configure this information to impact touchpoints as a

seamless part of the patient visit. This creates a higher-level engagement between patient and provider, increased adherence and enhanced quality of care.
Medications

.

Many of the survey questions relate to reasons why patients are prescribed a particular drug and adherence with their medications. Again, materials provided by field teams about particular medications can be used by providers to better help patients understand — and follow — particular drug regimens. They also can help providers comprehend how data on new treatments are included in the EHR, which in turn can be used in conversations with patients to enhance their care and medication adherence.
Education and distribution of high-impact materials.

Customer-facing teams also can engage with their providers to provide high-impact educational materials and resources their patients need. These discussions and tools, with instructions leveraging advanced EHR features, ensure enhanced support and patient experience by providing health system information technology guidance for implementing optimal treatment plans.
Customer-facing field teams also can take this opportunity to review with providers which patients may be candidates for a medication using their EHR reporting and what support programs might be added to the practice EHR for distribution to patients. Providers can also review electronic prescribing workflows to help providers make use of specific functionalities.
An example is RxFill, which allows a pharmacy to notify a prescriber when prescriptions are dispensed. It can shine a light on patient adherence by indicating if a patient is picking up the prescription or is not taking it correctly, such as by skipping doses to save money. Providers need to know how to identify patients for a medication, any challenges in prescribing it correctly and embedding patient support items into the practice workflow.
How our team can help.
POCP enables access to your brand by providing EHR resources for your field teams to provide to your health care providers, positioning them as trusted partners with their health care customers. These resources support customer implementation and optimization of your brand in their EHR – across the continuum of care – so your health care providers can more easily manage the care and education of their patients.
POCP offers deep subject matter expertise in the use of EHRs for Medicare-related programs and metrics. As a result, we provide exceptional resources for field team discussions, streamlining deployment and implementation within integrated delivery networks and large group practices. We help you position your customers for success and provide the tools to make it happen.
Want to know more? Reach out to me at brian.bamberger@pocp.com.