Moving Forward With the FHIR at Scale Taskforce
Subscribe
HIT Perspectives – April 2021
Moving Forward With the FHIR at Scale Taskforce

By Dana Marcelonis, Senior Consultant, Payer Services
Quick Summary
A number of proposed detailed solutions were developed with widespread industry collaboration and vetting

The FAST collaborative adopted a taskforce model to better harness the knowledge and expertise of various subject matter experts (SMEs) across the industry continuum
FAST's primary goals in 2020 were met through a series of meetings and outreach
2020 was a busy year for the Office of the National Coordinator for Health Information Technology (ONC) FHIR at Scale Taskforce (FAST). The collaborative was created in 2017 to address the most common or relevant industry-experienced infrastructural barriers and scalability challenges involved with implementing HL7's Fast Healthcare Interoperability Resources (FHIR) standard. Proposed detailed solutions were developed with widespread industry collaboration and vetting for:
A national solution for FHIR endpoint discovery

A national methodology for supporting multiple production versions of FHIR

Scaling requirements for FHIR RESTful exchange intermediaries

Standards-based approaches for individual identity management

Model(s) for scalable security solutions

Hybrid/intermediary exchange (exchange with or without intermediaries)

A FHIR testing and certification platform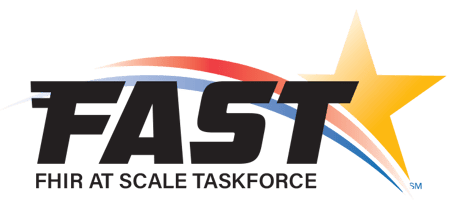 These multiyear efforts reached fruition last year following in-depth gap analyses on industry models and functional use cases and identification of technical and regulatory/policy barriers and core capabilities that are essential to scalability of FHIR-based solutions. The result was detailed proposals based on additional standards work, processes or proposed regulatory considerations that were created through iterative inputs and vetting from a wide range of stakeholders.
FAST's proposed solutions are on a path to standards-based implementation guides, industry guidance and/or asset building. Details are in the
2021 FAST Action Plan
.
The FAST process. FAST's work complements functional efforts of other FHIR-focused collaboratives, including the Da Vinci Project, CARIN Alliance and CodeX. Support has been provided by the ONC.
The FAST collaborative adopted a taskforce model to better harness the knowledge and expertise of various subject matter experts (SMEs) across the industry continuum. Seven Tiger Teams, staffed entirely by volunteer SMEs, were convened. The FAST Ecosystem Tiger Team developed over 15 ecosystem use cases and the core capabilities required for scale, while the remaining 6 FAST Tiger Teams analyzed these infrastructural core capabilities needed to scale FHIR solutions and developed solutions. In addition, by establishing and engaging with the FAST Technical Learning Community (TLC) and other FHIR initiatives, FAST continues to inform the broader public on taskforce goals and approaches. FAST progress has been continuously shared at industry conferences, workgroup meetings and through yearly reports.
2020 accomplishments. FAST's primary goals in 2020 were to:
Seek and obtain broader industry SME input to further develop, refine and validate the FAST proposed solutions
Publish matured, finalized FAST recommended solutions

Strategically incorporate industry feedback on the potential path forward to ensure solutions become permanent and can be successfully implemented
These aims were met through a series of meetings and outreach described below, as well as in the publication of the 2021 FAST Action Plan.
In the first half of 2020, FAST prepared and convened small panels of SMEs with various backgrounds (eg, health care, finance, software development) in a series of active working sessions. The goal of these sessions was to socialize the FAST proposed solutions, drive intensive discussions, identify any remaining gaps or barriers to be addressed, collect other insights that further strengthen the FAST solutions and begin to explore potential paths forward.
Following the SME working sessions, larger industry feedback was captured during the ONC FAST full-day workshop. It continued consensus building and solutions validation by the industry in a series of 13 working sessions. SMEs were invited to participate based on their expertise in each area.
In addition, proposed solutions were vetted in an open, transparent and inclusive way via presentations at various industry forums and HL7 Connectathons. FAST participation in Connectathons raises awareness of this work among organizations across the industry and provides real-world experience in testing these solutions that can inform later testing phases, initiatives and implementation guide development.
Moving forward. 2021 also promises to be busy with many FAST solutions already having embarked down the HL7 process for implementation guide development, participating in Connectathons and planning for pilots. All FAST solutions are aimed at being actionable and implementable, in contrast to others that will require asset building or development of industry guidance. Look for updates/results of SME sessions on the FAST Project Page. You also can follow the FAST TLC on LinkedIn for updates.
Looking ahead, FAST has an ambitious set of goals for 2021 and beyond. They include:
Determining remaining gaps that may require industry requests for information

Creating new tools and determining stewardship for their long-term maintenance

Demonstrating and balloting implementation guides

Exploring a long-term governance approach for scaling FHIR
In addition, testing needs are becoming critical in the near term as FAST finalizes proposed solutions. FAST will begin process planning for:
Validating/technical testing through HL7 Connectathons

Developing toolkit/sandbox solutions for FHIR accelerators and other FHIR initiatives
Subject to approval and funding, FAST will also be exploring such longer-term opportunities as a pilot and demonstration projects.
To learn more about FAST solutions and how you can become involved, please contact Stephen Konya, ONC lead for the FAST initiative. He may be reached at Stephen.Konya@hhs.gov.
Point-of-Care Partners can be a valuable resource on FHIR and related matters. We are a project manager for Da Vinci (contact jocelyn.keegan@pocp.com) and provide project support for FAST. Reach out to me at dana.marcelonis@pocp.com.
---
In this issue: