HIT Perspectives:


Tapping Pharmacy Infrastructure and Clinical Services in a Changing World
Subscribe
HIT Perspectives – September 2020
Tapping Pharmacy Infrastructure and Clinical Services in a Changing World


B
y
Pooja Babbrah, Practice Lead, PBM Services
Quick Summary
Drivers for pharmacists to provide community-wide clinical services are coalescing.

Pharmacists' expanded roles include COVID-19 testing, vaccinations and treatment.

Health IT and Regulatory Changes are vital in enabling pharmacists to take on greater clinical roles.
The role of pharmacists has been changing as health care evolves. For the past decade, pharmacists have been coming out from behind the counter to provide a wide range of services, such as becoming an integral part of care teams and saving lives and lowering costs through medication therapy management. More recently, pharmacists' roles have expanded to include more patient care and public health services, including administering vaccinations and performing tests for such conditions as streptococcal pharyngitis.
Now the coronavirus disease 2019 (COVID-19) pandemic has shined a light on how pharmacists and the pharmacy infrastructure require enhancements to effectively inform the patient's care team of services and medications administered in the pharmacy setting.
"Giving pharmacists the authorization to order and administer COVID-19 tests to their patients means easier access to testing for Americans who need it. Pharmacists play a vital role in delivering convenient access to important public health services and information. The Trump Administration is pleased to give pharmacists the chance to play a bigger role in the COVID-19 response, alongside all of America's heroic health care workers." Statement issued by Health and Human Services Secretary Alex Azar on April 8, 2020
Drivers for change. Regulatory and operational transformations necessary for pharmacists to provide community-wide clinical care services have been under way for decades. Several drivers for change already existed before the pandemic hit. One was addressing the shortage of primary care physicians. In response, many states and regulatory boards have updated pharmacists' scope of practice to provide additional services. Examples include providing routine health services, such as immunizations and prescriptions for birth control, as well as expanded counseling related to medications and various health conditions.
Another driver was changes in the regulatory environment, such as Medicare allowing pharmacists to bill for management of chronic disease and transitional care. Then there was the impact of the changing health care environment, in which value-based care recognizes pharmacists' abilities to provide lower cost care (such as vaccinations), identification of gaps in care (such as subtherapeutic pharmaceutical care) and education of patients, all of which help to lower costs and improve outcomes.
All told, these and other changes in the roles of pharmacists have been transformative. That said, the transition may not have gained traction as quickly as might have been expected or many would have liked. The size and scope of efforts related to the diagnosis and treatment of COVID-19 will accelerate and solidify the new roles of pharmacists.
Opportunities. Pharmacy has opportunities to improve patient outcomes in multiple areas. Some of these areas are well established while others are emerging.
COVID-19‒focused roles. Many roles for pharmacists have expanded in response to COVID-19. They include:
Testing Pharmacies have emerged as a convenient location for typically drive-through COVID-19 tests and will continue to be a focal point for handling the surge of COVID-19 testing needed when virus "hot spots" break out and when students go back to school en masse, for example.
Contact tracing. Pharmacists can help improve contact tracking by transmitting patient data to public health agencies.
Adverse events monitoring and reporting. The need to detect and report adverse events will take on increased importance during the COVID-19 era due to the rapid introduction of new vaccines and treatments. Pharmacists already are a first line of defense in identifying adverse reactions. They will have new responsibilities to identify and report adverse events from novel treatments and vaccines to manufacturers, the Food and Drug Administration and public health authorities.

Vaccinations. To be sure, pharmacists already were providing key routine immunizations for the flu, pneumonia and shingles. With COVID-19, pharmacies will be ramping up to provide wide-scale immunizations once a vaccine—or several—are approved and come to market. The American Pharmacists' Association (APhA) is one of the organizations advocating advancing pharmacists' clinical roles. It recently signed a letter, along with 12 other pharmacy organizations, urging the National Academies of Science, Engineering, and Medicine to prioritize the COVID-19 vaccination of pharmacists and pharmacy staff and to prominently include pharmacists in plans for the allocation and distribution of the COVID-19 vaccine. A national vaccination campaign will require pharmacists to prepare for the all-hands-on-deck efforts to immunize large segments of the population.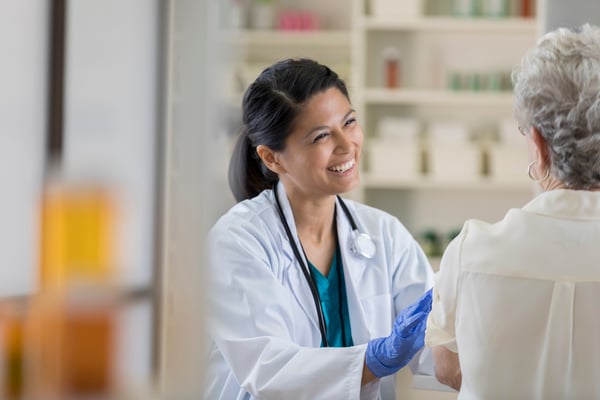 Treatment.

Pharmacy has been working for some time to integrate clinical models, from

pharmacogenetics

to chronic care

. Large pharmacy chains are gearing up for expanded clinical services.

Walgreens

announced plans to add primary care clinics in up to 700 locations. Pharmacists will play an increasing overall role in patient care and maintaining access to care throughout the COVID-19 pandemic, serving as primary care extenders to help triage patients and monitor them for possible side effects. Additionally, pharmacies may become locations for on-site administration of specialized COVID-19 treatment therapies, building on the capabilities that some have created for administration of certain specialty medications. At the same time, pharmacies will continue their crucial role in providing clinical services to help manage high-risk patients with chronic diseases, averting potential relapse or avoidable hospitalization. For example, a new

program

in Ohio will help relieve the strain on the state's health care system caused by COVID-19 by allowing community pharmacists to complement physician care efforts by helping to manage conditions such as diabetes and high blood pressure and preventing unnecessary hospitalizations.
Taking It to The Next Level: Critical Health IT and Regulatory Changes
A number of critical health information technology and regulatory changes will be vital in enabling pharmacists to take on greater clinical roles and improving pharmacy's response to COVID-19. For example:
Interoperability challenges. While the pharmacy infrastructure is robust in and of itself, there are gaps and interoperability issues with connecting with other necessary health care partners. For example, the public health infrastructure is fragmented and not necessarily standards based. It tends to be underfunded and interventions are often reactionary. This makes it difficult to share needed clinical information, as well as report adverse events to public health officials. Health information exchanges have limited connectivity within and across geographic areas, and as such limit data exchange. Not only do these systems need remediation, greater interoperability and sustainability, but they should also integrate with pharmacy systems.
Patient matching is a significant interoperability challenge. There is no single way to identify patients across disparate systems. Legislation instituted a funding ban in 1999 that prevented the government from working with private groups to create a national patient identifier. To fill the void, stakeholders created one-off proxies or algorithms, which remain imprecise. According to a 2014 report, 7 of every 100 patient records are mismatched. The error rate is typically closer to 10% to 20% within a health care entity and 50% to 60% when entities exchange with each other.
The patient mismatch problem has come to a head again with the COVID-19 response. Patients receive care from disparate health care organizations (urgent cares, field hospitals, pharmacies, labs, payers and various types of providers) in various venues and even states. Many of these sites are outside of patients' normal health care channels, so their records (and advance directives) aren't available to their care team or pharmacies. This creates problems for the quality and safety of patient care, as well as for claims processing, adverse events reporting and contact tracing.
There may be a beginning to the end of the problem. Six health care organizations have formed a national coalition, called  PatientID Now, advocating legislation and regulations. The message seems to have resonated with Congress, although efforts remain stalled. The House of Representatives recently voted to end the identifier funding ban, although the Senate declined appropriations in FY 2020 funding legislation. Even if a similar bill is passed by the Senate and eventually becomes law, it will take time to create a national patient identifier and for it to become adopted throughout the health care system.
Regulatory drivers. During COVID-19, as previously noted, the government acted with lightning speed to temporarily provide greater flexibility for pharmacist-administered COVID-19 testing. We expect federal and state governments will do the same for pharmacist-administered COVID-19 vaccinations, given the role pharmacists already hold administering flu shots. In addition, regulations concerning telehealth reimbursements and sites of administration have been eased or waived in response to COVID-19. Such waived restrictions should continue, as many policymakers, health care organizations and advocacy groups have noted.
Pharmacist Provider Status Is Key
In an important step, to the Centers for Medicare and Medicaid Services included pharmacists under Medicare Part B for the services they are now providing related to COVID-19. However, pharmacists and their patient care services are not included in key sections of the Social Security Act, which determines eligibility for health care programs such as Medicare Part B. Many state and private health plans often cite the omission from Medicare Part B as a reason for noncoverage for beneficiaries or lack of compensation of pharmacists for providing comprehensive, patient-centered care.
Organizations such as APhA and the National Alliance of State Pharmacy Associations are working to tighten the gap between an individual state's scope of practice language vs what is being allowed at the federal level concerning recognition of the pharmacist to provide essential services and the ability to bill for them. Their efforts and others are paying dividends. In Ohio, for example, Medicaid managed care companies are working with the Ohio Department of Medicaid to act on a 2019 law that recognizes pharmacists as providers in that state.
Additional solutions. Beyond the role for pharmacists in response to COVID-19, who else could help take care to the next level? Disrupters in the technology space are an obvious group, which will effect far-reaching changes. The groundwork for interoperability has been laid with requirements for application programming interfaces (APIs) using Health Level 7's FHIR (Fast Healthcare Interoperability Resources) standard. These APIs could be instrumental in adverse events reporting, connecting the dots between nontraditional health care and public health entities. Amazon and the Gates Foundation — always players to watch — recently joined forces with scientists to create home test kits for coronavirus. Presumably, these could be ordered through Amazon's new pharmacy service, which has an application under way for a trademark as Amazon Pharmacy. Amazon also sent Amazon Prime users information about its PillPack online medication fulfillment services and is working to get it covered by various insurance companies. Additionally, Amazon is establishing health care centers for its fulfillment center workers and their families, with 20 centers in five cities on the drawing board. They will provide a number of on-site and referral services. Examples include full-spectrum acute, chronic and preventive primary care; dispensing of prescription medications; vaccinations; behavioral health services; physical therapy; chiropractic care; health coaching; and care navigation to specialty referral services.
The impact of existing pharmacy clinical services and infrastructure bolstered by nontraditional players such as Amazon should not be underestimated, both during and after the COVID-19 crisis. While other industries struggle to adjust and evolve, our health care system has many built-in resources and reserve capacity that can be deployed to aid in the ongoing response to the pandemic.
Looking ahead. The world is rapidly changing in response to COVID-19 and pharmacy is poised to be an important part of patient care outcomes. Let's work to bring it to the forefront. Reach out to us at pooja.babbrah@pocp.com or phung.matthews@pocp.com.
---
In this issue: