10 Ways to Move the Needle on Adoption of Electronic Prior Authorization
Subscribe
HIT Perspectives – April 2021
10 Ways to Move the Needle on Adoption of Electronic Prior Authorization


By Jocelyn Keegan, Payer Practice Lead
By Pooja Babbrah, PBM Practice Lead
Quick Summary
Electronic prior authorization transaction has reached an inflection point, yet there is still much work to be done to increase adoption
Stakeholders should focus beyond regulations and on the return on investment
Modest changes in formulary and benefit files can go a long way toward improving data quality and stakeholder trust in ePA
Prior authorizations (PAs) are a pain point for payers, providers and patients. Obtaining advance permission from a payer before a covered drug is dispensed is complex, time consuming and frustrating. Until recently, nearly all PAs required voluminous submissions of information by phone and fax.
That is now changing with the availability of electronic prior authorization (ePA) for drugs covered under a patient's pharmacy benefit. The transaction has reached an inflection point, yet there is still much work to be done to increase adoption.
What will it take to move the ePA adoption needle forward? Here are 10 opportunities.
1. Focus beyond regulations and on the return on investment (ROI). Regulatory requirements are considered the primary way to move the ePA adoption needle. One recent law and regulations are expected to drive ePA adoption. As of the beginning of this year, use of ePA for Medicare Part D prescriptions is now required using the SCRIPT standard from the National Council for Prescription Drug Programs (NCPDP). Payers may soon be required to build and maintain standardized application programming interfaces for payer-to-provider and payer-to-payer sharing of health data – including PA data. Finally, the Consolidated Appropriations Act of 2020, which funds the federal government for fiscal year 2021, calls for the Department of Health and Human Services (HHS) to adopt a real-time pharmacy benefit (RTPB) standard.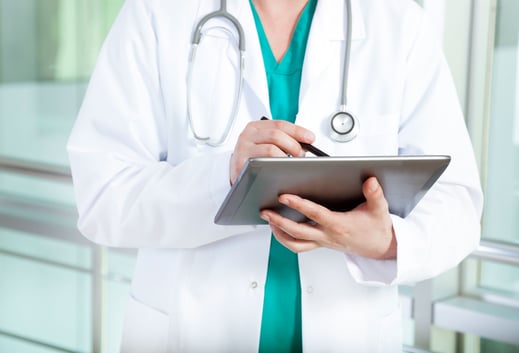 Although the law does not name the N
CPDP RTPB sta
ndard as that to be used, the text of this section of
the law does name NCPDP as the potential standards organizat
ion for HHS to review when it does name a standard for this transaction.
To be sure, while regulatory requirements are a main driver for ePA adoption, ROI is important as well. In fact, ePA's potential to reduce operational costs is a strong driver in its own right. More evidence concerning ePA's ROI is coming to light. For example, use of ePA can:
Improve turnaround time. A recent study

sponsored by America's Health Insurance Plans (AHIP) found that the m

edian time between submitting a PA request and receiving a decision was more than 3 times faster using the electronic process than manual – 5.7 hours versus 18.7 hours. That a reduction of 69%. Not only does this benefit providers and patients, it can also create the opportunity for payers to redeploy resources with greater efficiencies.

Reduce burden.

AHIP's research also shows significant burden reduction with ePA for experienced users. Roughly half reported fewer phone calls while 62% of experienced users reported less time spent on phone calls. Nearly 60% reported fewer faxes and less time spent reviewing them. Moreover, the more frequently a provider used the technology solution, the bigger the benefit the provider experienced in reduced burden and ease of understanding PA information.

Create savings in downstream costs. Payers, providers and patients can benefit from ePA's downstream cost savings, including avoided hospital visits, faster time to therapy and fewer abandoned prescriptions.
2. Recognize the value of using RTBC with ePA. Implementing a real-time benefit check at the point of care will be a catalyst to adoption of prospective ePA and improve the quality of ePA information. RTBC provides real-time, patient-specific information to providers regarding a patient's prescription drug benefit coverage as well as out-of-pocket costs. Used together, the prescriber can better determine when and if PA is needed at the point of prescribing. The result is burden reduction and improved transparency. Optimization of ePA by implementing RTBC at the point of care is also an opportunity for payers. Implementing a holistic product including RTBC and ePA for both the pharmacy and medical benefit is an example. However, investment will be needed for payers to capitalize on this opportunity.
Improve data quality. Data quality issues are major barriers to ePA adoption. One challenge is that payer information about PA is not always accurate or complete in electronic health records (EHRs), creating issues among providers. For example, inconsistencies exist in formulary and benefit (F&B) files that are critical to determining whether PA is needed by a payer for a specific drug for a particular patient. As a result, EHRs can't display an indicator that PA is necessary. When the prescriber unknowingly orders a medication that requires PA, a manual process ensues instead of an electronic transaction as part of the ePrescribing process. Another data quality problem is a lag in data updates. Users perceive that accuracy of formulary data is compromised if timely updates are not pushed out to prescriber. In fact, the largest formulary changes happen in the first month of the year; updates often lag 2-3 months behind.
As a result, modest changes in F&B files can go a long way toward improving data quality and providers' trust in ePA, which in turn will translate to an uptick in adoption. Ongoing efforts to better match patients with their records also will help improve necessary data quality for ePA. Learn more by reading our free report.
4. Reduce and standardize the need for PA. Prior authorization requirements vary by payer. At the end of the day though, most PAs are approved. This creates opportunities for improvement, which in turn will increase ePA adoption. For example, payers also can streamline the PA process by eliminating the upfront need for most PAs. Automation can be used to streamline processes on the remainder, thus improving turnaround time and time to therapy.
Payers also could standardize ePA methodologies, which will ease the burden on provider offices by using a standard approach regardless of a patient's coverage. This will help ease the adoption burden among prescribers and lower administrative costs.
5. Improve question-set automation. Prior authorization question sets, or Q-sets, also vary by payer. When PA was first introduced, many payers simply took their related questions from their forms and made them electronic with no changes to the language. Unfortunately, this can cause issues when a provider tries to answer those questions, especially if they are multipart questions or more complex. Many payers are now focused on revising and optimizing their existing Q-sets. This continued automation will help encourage greater use of ePA by making it easier to answer questions electronically.
6. Ramp up efforts on medical ePA. About half of prescriptions for drugs, devices and services are covered under a patient's medical benefit. For a variety of reasons, according to the Council for Affordable Quality Healthcare, medical plans are more likely to process PAs manually or through proprietary web portals. Another study by CoverMyMeds finds that ePA for specialty medications can reduce time to therapy significantly, from 17 days to as few as 1.5 days. While the ROI is there, technical and operational barriers are preventing uptake. Learn more about medical ePA, among other priorities, here.
7. Bring Medicaid on board. Medicaid adoption of ePA is low. Medicaid plans often are unwilling to support ePA due to perceived cost and regulatory factors. Implementation costs — real and perceived — also are an issue. For similar reasons, providers with Medicaid patients also are wary of ePA. Adoption could be improved with education from the sources they trust (such as beneficiary advocacy groups) to connect the investment to value. Medicaid plans and providers can especially benefit from ePA's ROI. Training is needed on ePA's benefits. Consistent, top-down ePA requirements from the federal government — along with incentives for new infrastructure — will help bring Medicaid users into the digital age of ePA. That said, legislation may be needed.
8. Address provider resistance. Provider resistance is a real barrier and must be addressed to achieve a higher level of ePA adoption. Despite the widespread availability of ePA solutions, provider adoption lags behind, with nearly half of PA requests occurring manually. There are many challenges to be overcome. They include perceived data quality issues (as described previously) and some plans' unwillingness or inability to fully support end-to-end ePA. In fact, having all payers support ePA will help drive provider adoption as they won't have to use various workflows, depending on the patient at hand. At the same time, better ePA integration into EHRs is needed. More seamless ePA workflow at the point of prescribing also will make prescribers go electronic with their PA requests. Moving forward, providers and their staff will need education on the ePA transaction and training on available tools. Eventually, providers will use ePA once they become familiar with it and its benefits. Research shows that getting the learning curve up is vital to sustained provider adoption.
9. Continued specialty pharmacy automation. Specialty pharmacy should accelerate its move to computerization. Specialty pharmacy currently is mired in the antiquated paper-phone-fax processes for prescriptions and PA. While only a very small percentage of patients (less than 4%) are prescribed specialty medications, they account for 25% of health care costs. Of the nearly $513.7 billion of prescription medication spend, $247.8 billion were for specialty medications according a 2020 report. Since nearly all specialty medications require PA, there is a business case for specialty pharmacies to rapidly move forward with ePrescribing and ePA. NCPDP workgroups will help pave the way. An example is development of an automated means for specialty enrollment. This should ease the enrollment burden surrounding the crucial first step involved with obtaining a specialty medication. Standards work will continue to be the backbone of progress, with a new joint HL7 & NCPDP specialty enrollment standard that is going through the final approval process this year.
10. Standardize state requirements. States have a patchwork quilt of laws and regulations concerning prior authorization. Some are mandating paper-based PA, such as through use of a standardized form, while others have varying kinds of electronic requirements, including use of the NCPDP ePA standard. This nationwide disparity creates disincentives for payers and vendors to create uniform, end-to-end ePA solutions. It also creates confusion and burden among providers and their staff, which also translates to unnecessary administrative costs. Having state laws and regulations sync with federal requirements will go a long way to spur ePA adoption among payers, vendors and providers.
Looking ahead. There is no silver bullet to get ePA use from the 40 yard line into the end zone. That said, myriad stakeholder efforts are coming to fruition and will move the needle on ePA adoption. Point-of-Care Partners is involved in many of these initiatives. We'd be happy to fill you in on what is happening and what still needs to be done. Reach out to us at jocelyn.keegan@pocp.com and pooja.babbrah@pocp.com. To learn more about our services tracking regulations and legislation related to ePA or ePrescribing, visit here. If you're more interested in the broader interoperability landscape, including regulations, legislation and standards development, learn more about our Interoperability Outlook Subscription Service by clicking here.
---
In this issue: